Customer Reviews
93
reviewers would recommend this product
Write a Review
07/22/2021
Blake5

United States
I recommend this product
Absolutely Gorgeous Dresser!!!
I'm going to give an honest review. Due to a terrible accident back in February, I lost all use of my right arm (my dominant arm). If you are hesitant about buying this dresser because of reviews about it being difficult to build, don't be. I was able to build the entire dresser with only having the use of my left arm. Yes I did need a little bit of help toward the end with placing the one side on, but other than that, I built it all by myself!! My hubby was quite impressed with me :) It is a beautiful and solid dresser. We now have the entire king bedroom set and even my hubby loves this dresser. I'm so happy that we have such a gorgeous bedroom set. In one month, we will be married for 23 years. This is without a doubt the best anniversary gift ever!!!!
12/07/2020
Ashley D.

United States
Love it!
This item was sitting in my cart for a while until it came back in stock and I'm so glad that I was able to get it! It's another the smaller side but perfect for our bedroom in an apartment. The rustic walnut is a beautiful color and we were able to assemble it ourselves (it took some time to do so but everything was labeled and organized in a way that made it easy to figure it out)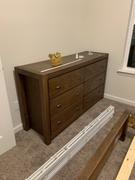 ---
The End (of the East End)

Located at the very tip of Long Island's North Fork, the hamlet of Montauk is also part of the city of East Hampton and therefore "The Hamptons". However, Montauk long stood as the last remaining place to escape the posh summer escapades of New York City's ultra-rich. Though ever encroached by development, Montauk still gives a special "untamed" feeling - especially outside the busy summer months. With 6 National Parks and one of the few consistent swells in the East Coast, the casual culture established by fishermen and surfers still prevails for a while longer.
Casual and Flexible by Design
The Montauk Collection uses rough-cut solid wood panels and hand-applied distressing to invoke the loose, unscripted feeling so characteristic of the hamlet. The sturdy construction enabled by the quality of materials recalls a culture with a desire to avoid wasteful, disposable consumption.
---