Customer Reviews
93
reviewers would recommend this product
Write a Review
02/25/2021
david l.

United States
It's a beauty
We have been looking for a square dining table for some time now. After unsuccessfully finding one, we decided to purchase this Grain Wood table. I figure it will do for the time being. But as soon as we assembled it, we realized how much we like it. Thus, we ordered a second one and placed them side by side to have a table that is roughly 5' x 6'. It's very SPACIOUS, looks very light and clean, and makes our dining room look so much more welcoming. Considering our kitchen doesn't have an island, this table can serve multiple purposes. One complaint... I did not like ******** in the legs - it took longer than most other tables that I have assembled. It's easy, but time-consuming. Overall, the table is a beauty. It's exactly the size and color that we wanted. It's neither too light nor too heavy. It's easy to move and all, but it's not like it will slip around. Enjoy.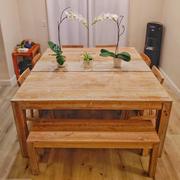 08/19/2020
Alan G.

United States
Great table for the price.
It's an affordable and solid table, with a very clean and modern look. I like the distressed surface because I don't have to worry about being gentle when I put my cup of coffee on the table. Since the entire table is distressed, it's easy to hide scratch marks. It's a bit lightweight, so if you have kids or wooden floors, they will bump into the table a lot, and it pushes the table around. You may find yourself repositioning it a lot...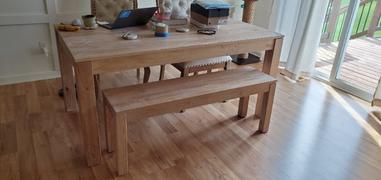 06/08/2020
Rick F.

United States
Couldn't be happier!
From the purchase to a shipping, from unboxing and installation, I couldn't be happier with the our new, absolutely gorgeous and extremely well-made dining room table! The quality and craftsmanship is nothing like I've seen in the past, so happy and would recommend this table and company!
---
The End (of the East End)

Located at the very tip of Long Island's North Fork, the hamlet of Montauk is also part of the city of East Hampton and therefore "The Hamptons". However, Montauk long stood as the last remaining place to escape the posh summer escapades of New York City's ultra-rich. Though ever encroached by development, Montauk still gives a special "untamed" feeling - especially outside the busy summer months. With 6 National Parks and one of the few consistent swells in the East Coast, the casual culture established by fishermen and surfers still prevails for a while longer.
Casual and Flexible by Design
The Montauk Collection uses rough-cut solid wood panels and hand-applied distressing to invoke the loose, unscripted feeling so characteristic of the hamlet. The sturdy construction enabled by the quality of materials recalls a culture with a desire to avoid wasteful, disposable consumption.
---